The Dave Banks Big Band Returns to The Music Box November 11!
*DBBB will back Michael Sonata In A Sinatra Tribute!
On November 11, The Dave Banks Big Band will be appearing at the Music Box Supper Club in Cleveland, Ohio! We will be performing with Sinatra Tribute artist, Michael Sonata and comedian Mike Conley.This will be an incredible evening of music you won't want to miss. For reservations, go to:
Michael Sonata
Dave Banks and Jimmy Mulidore Reunited again after 27 Years!
**Las Vegas Legend duos with DBBB February 19
The Rubber City's own wildly popular & hard-swingin' big band brought the flavors of the New York City & Los Angeles jazz scenes to Akron, while featuring legendary Las Vegas saxophonist and renowned bandleader, Jimmy Mulidore! BluJazz was absolutely sold out and they were turning standing room guests away!
It was in Las Vegas where Banks originally linked up with legendary West Coast saxophonist & renowned bandleader, Jimmy Mulidore, whose resume includes performances with Frank Sinatra, Elvis Presley, & Louis Armstrong. Moving to Las Vegas in 1957 provided Mulidore the opportunity to work with some of the biggest stars in the business. He began working at the renown Sands Hotel and Casino with the Rat Pack – Frank Sinatra, Sammy Davis Jr, and Dean Martin. By 1969, Jimmy was musical director at the Las Vegas Hilton, a position he held for eighteen years (and where he also shared the bandstand with Dave).

Notable arrangers for the show were Thad Jones, Duke Ellington, Toshiko Akiyoshi, Tom Kubis, Bill Holman, Don Sebesky, Bob Florence, Michael Abene were featured with many terrific charts.

Performing with the band were Don Turoso, Tom Reed, Bob Esterle, Dave Kana, Dick Willis (saxes), John English, Erik Gimbel, Chris DeMarco (trumpets), Phil Brice, Chas Baker, Pete Cumming, Scott Garlock (trombones), Jeremey Poparad (guitar), Alex Hoyt (piano), Aidan Plank (bass), and Jim Rupp (drums).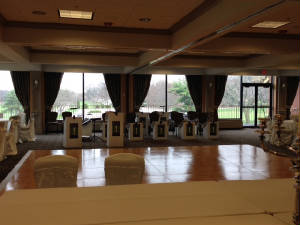 Another Big Band Wedding, and Another Satisfied Couple!
If you've never had a chance to experience The Dave Banks Big Band doing a wedding reception, you have truly missed something! Imagine hearing music from every era, be it swing, jazz, rock, motown, even some Broadway hits, all put together with a client's particular wishes in mind! With our library of over 500 songs, a stable of vocalists able to cover everything from Elvis to Sinatra to Janis Joplin, the DBBB has the versatility to make any reception sparkle. On May 16, the DBBB came out with a wide variety of styles for the reception of Anna Caldwell and Jason Saini, held at the Lake Erie Building in Lakewood, Ohio. Afterwards, Anna wrote the band, saying, "Thank you so much for making our wedding reception so memorable. The band was fantastic. The singers were spectacular!"
The band also performed on April 10 at the reception of Molly Meyer and Chris Williams! Not to be outdone, the DBBB has been contracted AGAIN, this time they will travel to Akron, Indiana for the FOURTH time this family clan has hired the DBBB for a reception! They obviously trust Dave and the gang to provide great live music for their reception needs!